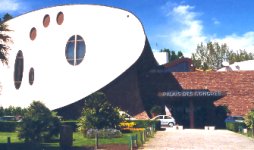 The conference will be held in the Conference Center of La Grande Motte. Located in the heart of the city, this center provides all facilities for housing conferences and exhibitions.
La Grande Motte
La Grande Motte, the "City of Pyramids" is a new town by the sea, basking in the sun. Not the least of its charms are the fine sandy beaches and the port with its invitation to sail out to sea.
Statistics:
2500 hours of sunshine per year
Average temperature: +6°C in winter, 23.5°C in summer
Population of 6,500 in winter, 100,000 in summer
244 hectares (one third of the town) of parks and gardens
20 km of pedestrian walkways
6 km of sandy beaches
12 private beaches
A port with anchorage for 1,371 boats
21 public carparks, with parking space for 2,500 vehicles

Click on the city name above for more informations.
Capital of the Languedoc-Roussillon, lying virtually on the Mediterranean coast, Montpellier has for centuries been a city where different cultures meet.
Today, it is a dynamic economy in which art and science go hand in hand with advanced technology and the superb Mediterranean life-style.

Part of the great European Medieval City tradition, open to the world, linked as much to the Mediterranean as to northern Europe, it is forever welcoming and assimilating new ideas, a melting pot of all that is best in today's civilisation.

A city in which medicine has been a vocation since the XIth C, with the oldest, existing medical faculty in the West. The fine reputation of its Law and Arts Faculties makes it one of France's foremost university cities.

Today, Montpellier is both a city dedicated to building a new Europe, and one of the southern Europe's main metropolies.

Click on the city name above for more informations.