The pescalune:
Is an authentic barge, transformed for river tourism (roomy to 200 people in walk and more than 100 people in restoration), pleasant and comfortable. It is approved by the ministry for transport. All the circuits are commented on, (linguistic booklets placed at the disposal for the foreign customers), thus you will evolve/move in all serenity au.fil.de.l'.eau by discovering the landscape and the fauna of the CAMARGUE.

Program:
17H00: Departure of Corum
18H00: Arrival in Aigues-Mortes (http://www.ot-aiguesmortes.fr)

The origin of Aigues-Mortes goes back a long way. Men used to collect salt, to tame the whims of a wild nature, and a malarial climate long before King Louis IX came in the XIIIth century to glorify the history of these sites.
Henceforth Aigues-Mortes, a withdrawn medieval witness, evolves and surprises, crossing inexorably wars, conflicts, times of peace, centuries of glory and misery. Its towers and ramparts are marked by time, haunted by the mystery of their resistance.
Nowadays, Aigues-Mortes preserves its traditional games with bulls. Centre of Camargue gastronomy, it turns to the Mediterranean Sea and combines the secret of the past and the charm of the future.


19H00: LOADING on the PESCALUNE Discovered of the secret and strange Camargue which can be penetrated only by channels and rivers. Navigation on the Channel of the Rhone with Sète. Aperitif on the bridge in music followed of the dinner
ANIMATION FLAMENCO BY THE GROUP SALAMANCA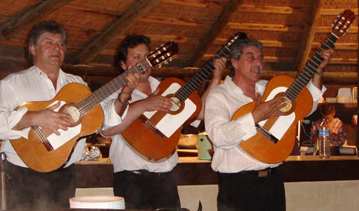 3 Guitarists ensure cordial and convivial environment...
22H00: End of the evening, Montpellier return.