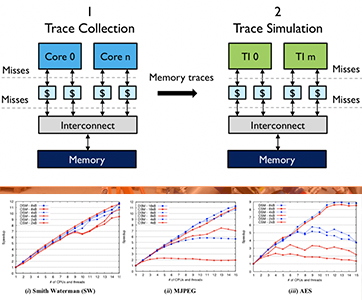 The ADAC (ADAptive Computing) team, whose mission is the design of adaptive systems and components capable of self-managing to optimize performance, conducts research on the exploration, simulation, and definition of innovative embedded hardware and software architectures, with a focus on the systems' on-line adaptation to their environment. These strategies aim to optimize system performance in terms of energy efficiency, compliance with application constraints, safety or reliability. This work is based on integrated parallel (multi-core and multi-processor systems) or distributed (grids, sensor networks) computing and attempts to integrate the use of non-volatile emerging technologies such as magnetic memories (MRAM) with new properties.

Significant resources are committed to the definition of the various facets of adaptive systems such as measurement (sensors), data fusion/integration, online decision-making and actuation (task migration, among others). This work is contextualized in various application domains ranging from IoT to intensive computing and digital security.
We are always looking for highly qualified and motivated students and researchers. Feel free to apply.