WEB Architecture X WEB Semantic X WEB of Data = WEB-CUBE

The WEB³ team aims to work on the issues, scientific and technological obstacles underlying the Web. It works more particularly on the architectural issues of the web, to exploit and extend the protocols of representation and exchange of data and knowledge; to allow better understanding and better processing of information and data.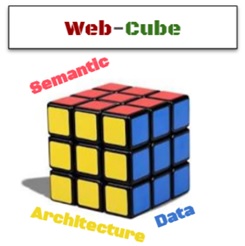 The team's work revolves around three major axes:
Web architectures
Semantic Web
Web of Data
The team is interested in fundamental topics (e.g., knowledge extraction, recommendation of datasets, alignment of ontologies, linking and merging of data, knowledge graphs, ontologies) but also in applications to many fields, in particular cultural heritage, health, finance, agronomy-environment and sociology. The specificity of the team is to address these three dimensions of the Web simultaneously.
Axis I: Web Architecture
The objective is to take interest in architectural issues and the changes underlying the Web:
Challenges: those are related to modeling and data processing in the Web (graph-oriented knowledge representation & treatments), scalability, resilience, distributed processing, interoperability and the emergence of new architectures and paradigms.
Keywords: Web Oriented Architecture, Property Graphs, Scalability, Data Mesh, Databases & Fuzziness, D-APP/Blockchain
Key areas: Finance, Security, Digital forensic science, Health
Axis II: Semantic Web
The objective is to address the protocols and methods of representation and exchange of data and knowledge.
Challenges: those are linked to data binding, to the alignment of data and ontologies of different types (work on the entire cycle), to the extraction of knowledge (for example, in clinical data), to the challenges related to semantic annotation (relationship detection, disambiguation, use of learning methods)
Keywords: ontologies, knowledge graphs, ontology alignment, ontology-based services, text and graph embeddings
Key areas: social sciences (fact-checking, points of view, journalism), environment, agronomy, health, social networks, digital forensic science
Axis III: Web of Data
The objective of this axis is to allow a better understanding and better processing of data and information.
Challenges: those are related to the exploitation of web of data; approaching data lakes (data storage pending their use); the conservation of potentially relevant data, alone or in combination; interdisciplinary work (cognitive sciences, anthropology, history, law, evolution, etc.); data governance.
Keywords: Linked Open Data, Data Science, Data Lakes, Databases & Fuzziness, Property Graphs, NoSQL, FAIR Data, Blockchain, Applied machine learning
Key ares: Environment, Health, SHS, Finance, Digital forensic science